About Sanjex
San Jung Industrial Co., Ltd. (Brand, SANJEX) is the wheelchair parts manufacturer and supplier established in Taiwan in 1972. Not only wheelchair parts, Sanjex also offers bicycle parts, and harddwares with OEM& ODM solutions.
With good production facilities, we are good working with various matels, as steel, stainless, aluminum, and Titanium. Not only making, we help customers outsourcing, as plastic injecting, extrusion, etc.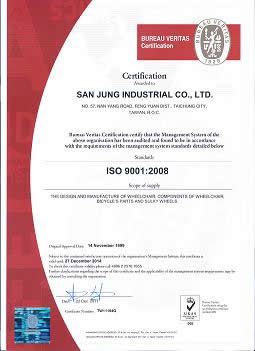 News
Production Technologies
With 50-year experience, Sanjex have well production technolies, and qualified sub-contractors. We offer complete solutions to our customers around the world.
Machining Production: CNC lating/milling,drilling for various materials, as aluminum (6061, 7075,2024), stainless steel (sus 303, sus304, sus316, sus420, sus630, steel(S45C, SCM435), titanium(Grade2, Grade5), and ect.
Remodeling: Bending and Pressing.
<Read more...>